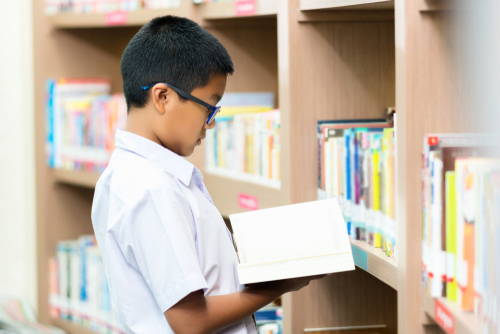 Model Reading to Your Child
Read with your child at home to set the mood for reading. When one or both parents sit together with the child to read, it makes the activity a familial one. As the adults are reading, with the television turned off and other digital devices put aside, it gives more motivation for unmotivated young readers to take part. You could also have conversations with your child later in the day, and ask him about what he has read, to show your interest and involvement in his reading journey.
Have A Variety of Reading Material Available at Home
Children who grow up with books or other interesting reading materials surrounding them tend to read more than those who find it hard to get hold of them. Making reading materials (such as books, magazines, short story collections, poetry anthologies, etc.) readily available provides more opportunities and possibilities for a child to just pick them up or at least browse through them. It all starts with picking up an interesting piece of reading material or two and before you know it, your child would have read all the books at home and would venture on to conquer the library next.
Graphic Novels
As many would argue that comic books offer little benefit in terms of improvement in language abilities, graphic novels have proven to provide sufficient visual stimulus to engage children who are slightly more inclined to visual learning. Such books could give visually-engaged children the first step towards a complete transition to non-graphic books, as the visuals inspire them to imagine the story in their minds. There are graphic novels that evoke emotions and some that give humorous illustrations as an incentive for the child to continue reading. Online and local bookshops offer a wide variety of graphic novels for various reading ability levels, covering genres such as fiction, fantasy, and even historical fiction.
Tap on Their Interests
Sports, adventure, fantasy – whatever that sparks interest in your child should not be ignored but instead be utilised as a ticket to nurturing his reading habit. Even if the book is not entirely focussed on his specific interest, you could use a particular part of the story that excites your child as a hook to hopefully draw them into reading the rest of the novel. A good example would be turning to the Quidditch tournament scene in J.K. Rowling's Harry Potter and the Goblet of Fire to excite your child who is highly interested in sports. Even if they do not finish reading the book, they did enjoy some reading!
Book Vouchers Instead of Cash or Presents
Instead of lavishing your child with gifts or cash for special occasions like his birthday, try giving him book vouchers instead. Rather than giving your child specific books that he might not enjoy reading, a book voucher would give them the freedom to pick a book for himself at the bookstore. Given the fact that it is the only gift he would get from you, as well as the amount of effort he has to put in to take a trip to the bookstore, your child would take more ownership in the selection process. This in turn would mean that he would pick the books that he would most likely read. You could also turn a trip to the bookstore into a fruitful and inexpensive family outing, killing two birds with one stone!
The strategies listed above are just some of the many you could try to motivate your child to read. Reading is definitely a very beneficial hobby and would definitely mould one's character and thinking. If your child does not respond well in your first few attempts of getting him to read, keep trying. As author and associate professor of Literacy Education and Children's Literature at Arizona State University, Frank Serafini, has once written: "There is no such thing as a child who hates to read; there are only children who have not found the right book."
Happy reading!